Below is an article reproduced from the Sevenoaks and District Motor Clubs magazine (Acorn) about Yaser and Kent Motorsport.
I first met Yaser Almaghrbi at the 2018 TWMC awards evening. Yaser is the founder of Kent Motorsport, he explained to me how he builds and rents out race cars. I was intrigued by his detailed knowledge of race car set up.
As many people who will have seen my woeful performance at the September SDMC Autosolo could attest from a distance, my MX5 handles really badly. In the final event of last year I was second in the MX5 class going into the last round, but made some silly mistakes so Paul Hebden beat me. However, I had proved (to myself at least) that I am potentially capable of doing well. This year began with disaster and got worse. I had been busy during the day playing guitar with Sterling Ernstzen's daughter, Claudine, so hadn't got round to preparing the car until the evening. I was putting on my set of wheels with Uniroyal Rainsport tyres (which seem de rigeur among MX5 Autotest competitors these days), when I noticed ne had a nail through it and it was too late to get it fixed! So I fitted my absolutely rubbish set of tyres I bought for £100 (including wheels) for sacrificial use at the Crystal Palace Autotest demonstration. Needless to say they had absolutely no grip at all and after the first run on the rally course I was the second slowest car in the field. As the rain eased off and the track dried out a bit I managed to get up to the middle of the results, not very impressive. After the event, I reflected on the appalling handling of the car, particularly the terrible understeer and recalled that a lot of work had been done on the car since I last had the wheel alignment checked properly. Paul Hebden had arranged for his local MOT station to have a look, but they had only used standard settings, not allowing for motorsport use.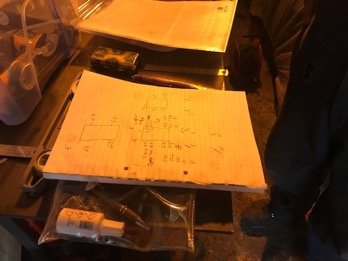 Although I have used at least five different professional setup companies in the past who claim to understand the needs of motorsports, I have never been impressed by any of them as I could hardly tell the difference before and after. (Paul Hebden has pointed out this may be because some bolts may be seized and they can't be bothered to fix them so actually make very few changes. Paul Kindly freed off all the bolts for me). I remembered my meeting with Yaser and so gave him a call to arrange a setup.
One of the many things that really impressed me about Yaser (quite apart from the fact that he is really friendly and provides tea and biscuits during the setup), was that he gave me full visibility of the process, showing how he was measuring to half-millimetre accuracy and let me confirm the results to my own satisfaction. He uses two different measurement systems to cross check for any errors.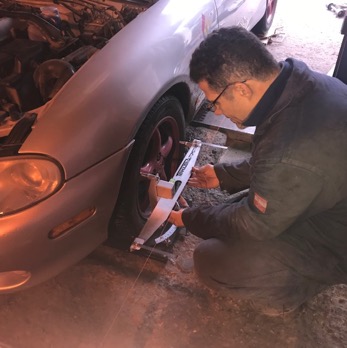 Having listened to my description of the shortcomings of the cars current handling and what I wanted to change in performance terms, he gave me different options for the front and rear setup, explain the benefits of the changes and how they would feel if we got to more extreme settings. This enabled me to judge what I was prepared to live with on a daily-driver basis in order to get the required track performance. In the end we decide to go quite extreme. Immediately on the road I could feel the front end was much more responsive and able to take greater steering lock angles before understeering, without being too twitchy in the straight ahead position. The rear end had been unwilling to rotate or break away even when pushed hard on tarmac, but now was very easy to provoke into oversteer. I had a moment coming off a roundabout so might dial that back a bit. Yaser is very supportive and is keen to help me on the journey to getting the setup as I want it, pointing out that it would take some trial-and-error changes to meet my personal tastes.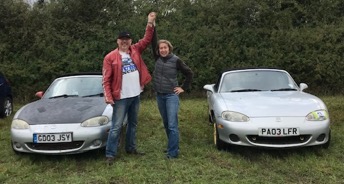 The real test came the following day at the CSMA Autumn Autotest at Dunstable. I have had four class wins at this venue in the past in the MX5, but have always been way behind the pace of the FTD winning FWD cars of Bryan Sharpe and Mike Biss. On this occasion it was pouring with rain and many areas of the field were just liquid mud mixed with some grass. Normally, when there is just damp grass FWD cars have the advantage, only when it gets drier are RWD cars able to compete. Therefore, I expected my trusty navigator and fellow MX5-driving competitor, Sue Gibbard, to be flat last. I did teach Sue a trick (which I will keep from delicate Acorn readers and pesky future rivals) that gave us both an edge over all the other drivers but I really believe that Yaser's setup on my car gave me a massive improvement in handling. In the end I finished second overall in a field of 18!, even beating Mike Biss who has in turn beaten Bryan Sharpe to FTD in the past. That is the closest I have been to an FTD, cant wait to try it on tarmac at the Lydden Autosolo. Sue managed a quite stunning 9th place in the treacherous conditions. Just think what she could have managed with a Kent Motorsports setup!
You can contact Yaser so that he can give you FTD-winning potential at yaser@kent-motorsport.co.uk 07812 673 272.
If you want to contact Sue to book her as a co-driver for a future event – you can't! I am keeping her excellent navigational and competitive motivation skills to myself!